MACHINE HEAD NEWS!
October 20, 2014, posted by Crumbs.
Decibel Magazine's Staggering "Bloodstone & Diamonds" Review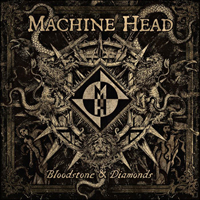 Machine Head - Bloodstone & Diamonds

BETTER THAN THE REST

Robb Flynn has never been one to mince words, which is never a bad thing, especially in this day and age. At a time when the 2 biggest-selling metal acts in America over the past year, Five Finger Death Punch and Avenged Sevenfold, pander to the lowest common denominator, the need for prominent bands with genuine ideas is greater than ever. The mainstream side of heavy metal has been in serious need of a swift kick in the pants for a while, and Machine Head are so needed these days because few other popular musicians are able to combine songwriting, vitriol-fueled energy and eloquence.

More than 2011's otherwise strong "Unto The Locust", "Bloodstone & Diamonds" comes close to equaling the power and breadth of 2007's "The Blackening". Flynn and company stick to their strengths: bridging '80s thrash and '90s groove, creating an enormous wall of sound, tossing in a few trademark atonal bursts and -best of all- delivering a masterclass in metal dynamics.

Meanwhile, Flynn's embracing of the roles as both storyteller and social commentator -blunt as his words can be- makes the album even more likable. "In Comes The Flood" can be seen as a "Peace Sells" for the Occupy Wall St. generation, "Night Of Long Knives" is an effective retelling of the Manson Murders, while the hostile "Game Over" brilliantly builds tension before erupting into a wicked hard rock tune that matches the best work by Slipknot.
Flynn swings for the fences, and does he ever connect.
- Adrien Begrand

"BLOODSTONE & DIAMONDS" IS RELEASED NOV. 10 IN NORTH AMERICA, NOV. 7 IN EUROPE.

ORDER DECIBEL MAGAZINE NOW.


Source: Machine Head Facebook
TakeMyScars.com - A Place Dedicated to the Mighty Machine Head!