MACHINE HEAD NEWS!
July 31, 2011, posted by FotherMucker99.
Dave McClain interviewed by capitalchaos.net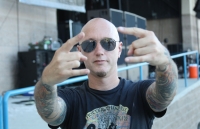 The Mighty Zorro of Capital Chaos interviews Dave McClain prior to the second show of the 2011 Rockstar Energy Drink Mayhem Festival on July 9th at the Shoreline Amphitheatre in Mountain View, CA.

You can now watch the chat below


Source: Capital Chaos Youtube
TakeMyScars.com - A Place Dedicated to the Mighty Machine Head!