MACHINE HEAD NEWS!
August 15, 2008, posted by Crumbs.
DISTURBED Frontman: MACHINE HEAD guys are just killin' it!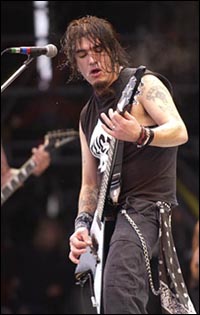 James R. Chesna of Michigan's WJRT-TV recently conducted an interview with DISTURBED frontman David Draiman. A couple of excerpts from the chat follow.

WJRT-TV: So how is the tour [Rockstar Energy Mayhem festival] going?

David Draiman:
Really, really well.

WJRT-TV: Yeah?

David Draiman:
We're having a great time, crowds are amazing. Great camaraderie. Everybody's getting along.

WJRT-TV: Have you had a chance to see most of the other bands?

David Draiman:
Everybody now.

WJRT-TV: Anybody out there you admire?

David Draiman:
I'm definitely impressed to see how FIVE FINGER DEATH PUNCH has developed. We took 'em out on our warm-up run and they've already just grown in leaps and bounds over the course of this tour. The MACHINE HEAD guys are just killin' it — killin' it — as they always have, and just showing everybody how it's done. I really dig the AIRBOURNE guys — very cool, old-school, straight-up rock 'n' roll. They leave it all up there onstage. Who else has been impressing me ... (Pauses and smiles) The DRAGONFORCE guys are always entertaining.


Source: Blabbermouth.net
TakeMyScars.com - A Place Dedicated to the Mighty Machine Head!