MACHINE HEAD NEWS!
September 12, 2010, posted by Crumbs.
DAVE MCCLAIN At Spain's LA RIOJA DRUMMING FESTIVAL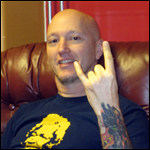 Drummer Dave McClain of San Francisco Bay Area metallers MACHINE HEAD took part in this year's La Rioja Drumming Festival, which was held on September 3-4, 2010 in Logroño, Spain. Video footage and photos of his appearance at the event can be viewed below.






Source: Blabbermouth.net
TakeMyScars.com - A Place Dedicated to the Mighty Machine Head!