MACHINE HEAD NEWS!
October 30, 2014, posted by Crumbs.
Bloodstone & Diamonds Trailer #1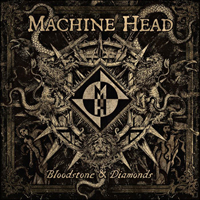 Machine Head have released a trailer teasing their upcoming new album.

The metal icons release Bloodstone & Diamonds on November 10 via Nuclear Blast. And in the trailer, they discuss the inspiration for the record.

Bloodstone & Diamonds tracklist
1. Now We Die
2. Killers & Kings
3. Ghosts Will Haunt My Bones
4. Night Of Long Knives
5. Sail Into The Black
6. Eyes Of The Dead
7. Beneath The Silt
8. In Comes The Flood
9. Damage Inside
10. Game Over
11. Imaginal Cells (instrumental)
12. Take Me Through The Fire


Source: Machine Head
TakeMyScars.com - A Place Dedicated to the Mighty Machine Head!