MACHINE HEAD NEWS!
August 30, 2007, posted by Crumbs.
Audio Clips with Machine Head at the Kerrang! Awards.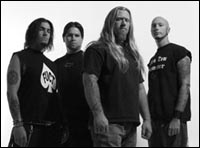 MACHINE HEAD were among the musicians who were interviewed at the Kerrang! Awards in London for the "Tinitus" radio show that was broadcast yesterday at Norway's Radio Channel P3. Hear straight from the horses' mouths, what happened to the bassist Adam Duce when he broke his leg, about the next album and lots of goofing around...

Check it out here.

Source: TakeMyScars.com
TakeMyScars.com - A Place Dedicated to the Mighty Machine Head!