MACHINE HEAD NEWS!
May 3, 2009, posted by Crumbs.
Adam Duce to Miss Stockholm Show!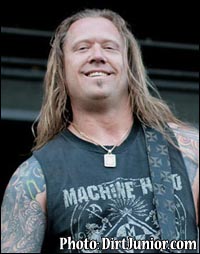 Adam Duce is currently recovering from an emergency root canal to address a massive infection in his jaw, and as a result will miss Monday's Metallica show in Stockholm. Replacing Duce on bass for the show will be our good friend Jensen of local metal heroes The Haunted. Says Duce, "Apparently I've had this abscessed tooth breeding infection just above my mouth for a couple of years. The pain was tolerable and I didn't think to have it checked out. I went to the doctor to see if it was ok to fly, and she told me to go get some x-rays. My dentist found the abscessed tooth as soon as he looked at the x-rays and sent me to another dentist that could fit me in immediately for a root canal procedure. The dentist also informed me that I couldn't fly with that condition because, believe it or not, it could be fatal due to how close the infection is to my brain. I apologize to all the fans in Sweden for not being able to be there for Mondays show. Thanks for your understanding and I'll see you next time." Adam will return for Wednesday's show in Munich.


Source: Machinehead1.com
TakeMyScars.com - A Place Dedicated to the Mighty Machine Head!