MACHINE HEAD NEWS!
January 29, 2008, posted by Crumbs.
A New Interview with Phil Demmel Posted Online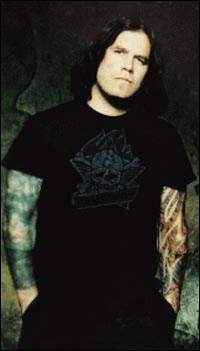 It's a predictable pattern for artists to come out with a ground breaking debut album, and then spend the rest of their careers trying unsuccessfully to match the power of their first work. Machine Head first made a splash in the metal world with 1994's sublime Burn My Eyes. While their next few albums were solid, their relevance seemed to be in danger after the commercial and critical failure of their fourth album in 2001. The band was then dropped from their label and seemed on the verge of falling into obscurity.

But instead of packing up and going home, Machine Head returned in 2004 with Through the Ashes of Empires, their heaviest and most complex album to that date. The overall quality of the album and the band's consistently amazing live show quickly returned them to prominence. They've since rode the success of that album on to the release of this year's The Blackening, another stunning effort that has been greeted with ever greater sales and critical acclaim. I spent a recent afternoon chatting with guitarist Phil Demmel about the band's turnaround and what it means to be metal in 2007.

"Redemption is the big word in the Machine Head camp these days. I sometimes have a hard time reading the reviews and taking them seriously, but of course it validates what you do. You put a lot of hard work into something and anyone who works hard at something wants to be received well. It's human nature to want to be accepted and we appreciate it."

The full interview can be found here >>


Source: StevenBorowiec.blogspot.com
TakeMyScars.com - A Place Dedicated to the Mighty Machine Head!