MACHINE HEAD NEWS!
October 4, 2017, posted by Crumbs.
Phil Demmel Join 3rd Annual Bowl for Ronnie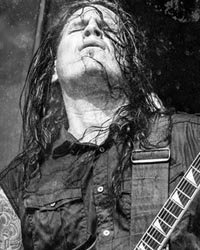 It's just about time to roll and a number of rockers have answered the call for the 3rd Annual Bowl for Ronnie celebrity bowling tournament taking place this Friday (Oct. 6) at the Pinz Bowling Center in Studio City, CA.

New additions to the lineup of musicians expected to take part include Sebastian Bach, Motorhead and Scorpions drummer Mikkey Dee, Machine Head guitarist Phil Demmel, Beasto Blanco's Calico Cooper and Chris Latham, Halford's Roy Z., Lizzy Borden's Ira Black, Lynch Mob's Jimmy DeAnda, producer Bob Kulick, Bullet Boys' Mike Sweda, Lies, Deceit and Treachery's Shane Tesheart, Bullet Boys' Lonnie Vincent, Ahmet Zappa and guitarist Brent Woods.

Last year, the Bowl for Ronnie event brought in $36,000 for cancer charity. This year's event sees Bowl for Ronnie host Eddie Trunk back to head up one team. Last year, his team that features Morello, John 5, Rock Feinstein and Jeff Scott Soto won the title. This year, you can bid on a spot on Trunk's team or bid to be one of the bowlers for the local KLOS team captained by Gary Moore and Stew Herrera.

If you'd like to take part in this special evening, head here for tickets.


Source: Loudwire.com
TakeMyScars.com - A Place Dedicated to the Mighty Machine Head!